Another Gigantic street competition has ended, and there were again so many photos, 1285 to be exact. Congrats to all who joined the competition!!

The Kujaja team is not done with nominating the photos yet, but Tim Huynh already did the curating of this competition at WSP.

And here are the results:


Curators First Choice
The curators first choice is awarded to Kevin Icabales for the image 'What Happened?'
Tim Huynh: There is a saying "Less is More". which I think this photo touches upon. There is mystery behind this photo, with the person off to the right lying dead perhaps, the dog in the upper left, and the car that's not perfectly parked. What happened here is the question I keep asking myself. I also love the triangular connection that the dog, car, and person on the floor creates, it's almost as if they are connected with one another of some sort. There are not many photos that can hold my attention.


Curators Second Choice
The curators second choice is awarded to Atsuya Harukawa for the image 'untitled'
Tim Huynh: Love the light, shadow, and usage of fog. We don't see any of the children's faces which adds an eerie element to the image. The image at the upper right top looks like a giant drone. This image gives you enough content without giving away too much. Which makes it fun for me as a viewer because I can create my own story.
Special mentions
Plastic Village by Gobinda Paul
Tim Huynh: Is this a portrait or was this photographed candidly? That is besides the point, I am not here to question whether a photo was posed or not. A good photo is a good photo. Lots of elements but I'm curious to see this in color and it may have ranked higher if it was in color by adding depth and life to the photograph. All in all, good moment, good photograph.
Epic Shadows by Kevin Icabales
Tim Huynh: Nice work with shadows. The entrance way adds another element for me.
*** by Katarzyna Kubiak
Tim Huynh: Funny moment. This image is proof that you don't need a lot of layers or content to evoke an emotion.
Untitled by Luke Lao
Tim Huynh: Nice b&w photo. Very clean & mysterious. Perhaps, something that Capital Hill can relate to.
Assembly for Purity by K. U. Masoud
Tim Huynh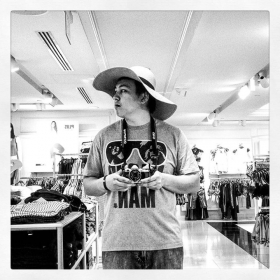 Tim Huynh is a photographer from Honolulu, Hawaii. Who actively seek opportunities to capture humanity and human behavior and document stages of modernization not only in Honolulu but anywhere he travels to. He is a 2017 San Francisco StreetFoto Finalist. Aside from taking photos, Tim enjoys blogging on street photography and interviewing street photographers that may not be known by the majority of the street photography community.You can check out his thought provoking and opinionated blog
here (click)
And his youtube channel
here (click)


Winner of the 'Viewers Choice' award
'Upcoming storm' By Helmut Ph. Kluge